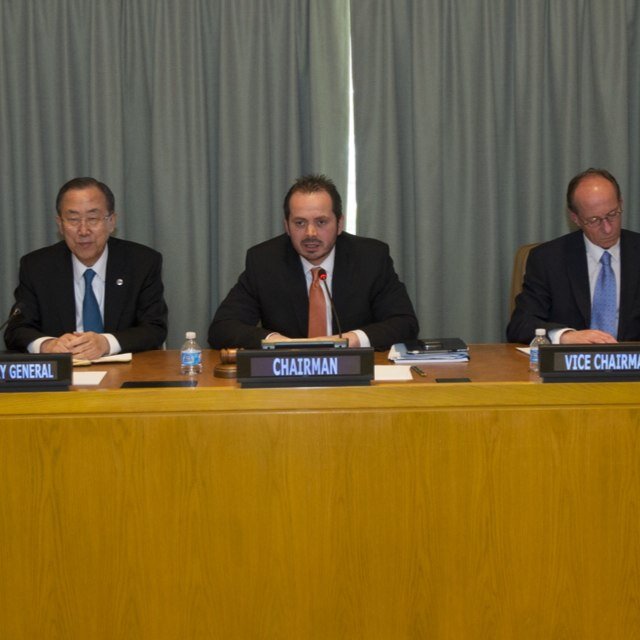 The Speaker at the June 19, 2013 meetings was Mr. Carlos G. Ruiz Massieu, Representative of the Mission of Mexico to the United Nations. Mr. Massieu is the Chairman of the United Nations Advisory Committee on Administrative and Budgetary Questions which has complete oversight of all UN activities, including its political missions and peacekeeping operations worldwide.
He is the first Latin American to hold this position in the history of the United Nations


Mexican citizen Carlos Ruiz Massieu Aguirre was appointed chairman of the U.N.'s Advisory Committee on Administrative and Budgetary Questions (ACABQ) during the 67th UN General Assembly.

Mr. Ruiz Massieu assumed his new role on January 1, 2013, with the rank of Assistant Secretary General. This is the first time a Latin American has occupied that post.

The ACABQ is one of the most influential areas of the United Nations and is responsible for reviewing the budgets submitted by the UN Secretary General for peacekeeping operations and for the operation of the UN agencies and programs.

Carlos Ruiz Massieu's appointment comes in recognition of his strong academic and professional background. He has extensive multilateral experience in development cooperation and administrative and budgetary matters. He is already working on the ACABQ, to which he was elected in 2011.

Carlos Ruiz Masssieu is a member of the Mexican Foreign Service and holds a law degree from the Iberoamericana University and a master's degree in political science from the University of Essex. He has been posted to the Mexican embassy in Costa Rica and to the Permanent Mission of Mexico to the United Nations in New York.

The Foreign Ministry reaffirms its commitment to the objectives and work of the UN and is ready to continue working on improving the organization's efficiency, effectiveness, transparency and accountability.